The two known Internationally from Odisha, Sprinter Dutee Chand and Renowned sand artist Sudarsan Pattnaik are scheduled to deliver TEDx talk on theme – 'Obvious or Oblivious?' at TEDxDUCIC event in New Delhi on Saturday, August 24, this year.
As per sources, around thirteen noted personalities from various fields are scheduled to give the TEDx talk. However, this event will be held in Conference Centre, North campus, University of Delhi.
The one who is desired to attend this event will have to purchase ticket by filling the form given in the web page www.ted.com, while each ticket priced at 800 INR.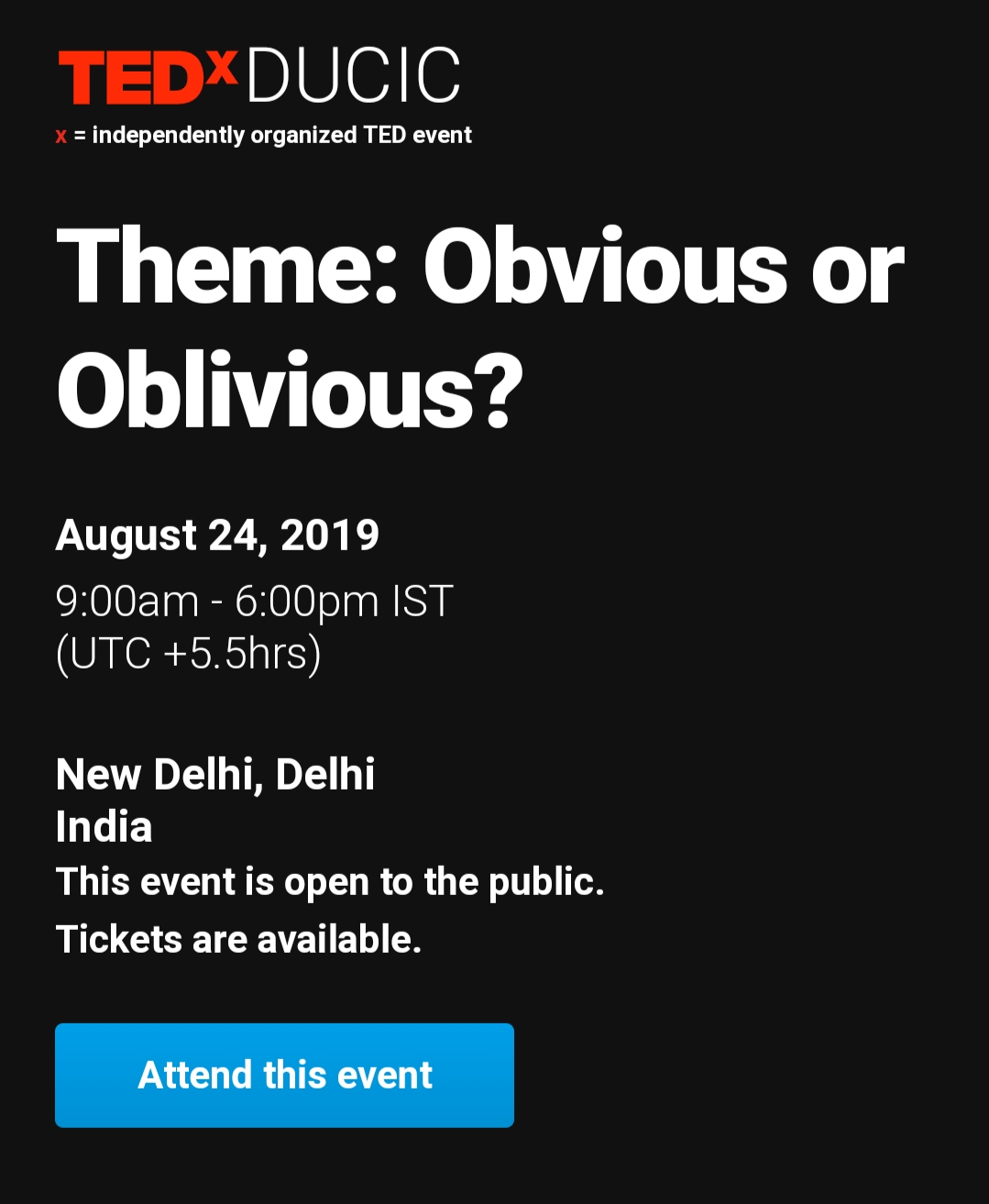 The Cash payment will need to be made at Cluster Innovation Centre by 20th August.
Stemming from this quest of unraveling the oblivious side of things and occurrences that have been surrounded by obviousness so far, in this event, TEDxDUCIC introduces its theme "Obvious or Oblivious?" with the understanding that evident conspicuousness might be laced with underlying inconspicuousness. That, in a fast-paced world, one must stop, inquire and rediscover ideas to combat the linearity of occurrences. What we most obviously know must pass the test of legitimacy to prove itself true. If it fails, it proves our obliviousness to it. Bringing forth an introspective test to its audience, the theme caters ideas worth sharing that unveil the "-li-" hidden in the "ob(li)vious".
Some personalities from various fields who are scheduled to give the TEDx talk are:-
Regional Representative for India and South Asia for Girl Up, United Nations Foundation, Aditi Arora works as the Regional Representative for India and South Asia for Girl Up, United Nations Foundation. She is based in New Delhi. With a master's degree in International Relations and Political Science from Geneva, Aditi has been advocating for equal rights for women and has worked on multiple projects related to gender, health and child protection. She has been strongly perceptive of the different ways in which men and women experience conflict, which propelled her to work in GMAP (Gender in Mine Action) and has been working in the field of maternal and child healthcare through her time in India.
LGBTQ+ Activist, Amrita Sarkar is the one of the founding members and the Secretary of IRGT – A Global Network of Trans Women and HIV. She is currently working with Solidarity and Action Against The HIV Infection in India (SAATHII). She is also an active member of TPATH (Transgender Professional Association for Transgender Health). She help build the capacity of trans-led organisations, which was supported by SIDA (Swedish International Development Cooperation Agency) and was India's first national level trans capacity building programme. She has been a part of the core working group formed by the National AIDS Control Organisation (NACO), India to design trans specific intervention programmes under NACP IV (National AIDS Control Programme – Phase IV). She works with Delhi Commission for Women for the welfare of transgender community and with the Delhi University to promote education for transgender students.
Former director, Doordarshan. Media and communication expert and analyst.
Journalist, Curious and hungry are two words that aptly describe me as justified by my peers and professors. That is probably one of the reasons why I work as a journalist. With my camera being my best friend, I specialise in short-form documentaries and photo stories. I hold a Bachelor of Communication's degree from the University of Newcastle, Australia majoring in Journalism and Public Relations, and I spend a fair amount of my free time working on commercial advertisements and films.
Psychologist and Educationist, Dr Jawahar Surisetti is a psychologist and educationist of international repute whose 1300 + speeches, seminars and workshops have been heard by lakhs of people around the globe. He is known worldwide as the Think Professor for his "Art of Thinking" and his "Think for India" movement for introduction of thinking in education. He has received innumerable accolades for his pioneering works an d thoughts on various issues of strategic interest to corporates and school as well as higher education. He advises States and central governments in India and U.S. He is also the brand ambassador of skill development for the State of Queensland.
Associate Professor, Dr. Jyoti Sharma is an Associate Professor at Cluster Innovation Centre, University of Delhi. She is a Mathematics Educator and works extensively with high ability learners. She is known for her contribution in Innovative Pedagogies for Mathematics Teaching. An expert in developing Mathematics teaching-learning resources and creating Mathematics Resource Lab in schools, her contribution in alternate pedagogy is very well adopted in the field. As a teacher educator, she is actively involved in action research on innovative classroom practices in mathematics and preparing innovative teaching material to facilitate mathematics learning. As a research scholar, she developed keen interest in mathematically gifted children and developed model for identification of mathematically gifted children highlighting cognitive and affective traits of these children.
Indian Olympic Athlete, Dutee Chand is an Indian professional sprinter and current national champion in the women's 100 metres event. She is the third Indian woman to ever qualify for the Women's 100 metres event at the Summer Olympic Games. In 2018, Chand clinched silver in women's 100m at the Jakarta Asian Games. It was India's first medal in this event since 1998. In 2019, she became the first Indian sprinter to win gold at the Universiade. Dutee is also India's first athlete to openly come out as a member of the LGBTQ+ community, when she spoke about being in a same-sex relationship in 2019.
Assistant Director, Iresh Gupta is a young aspiring filmmaker, who prefers to be referred more as a storyteller. Born in the lap of Punjab, and now settled in his 'city of dreams' Bombay, he is passionate about stories. Stories which are encounters, struggles, victories, or plain imaginations. In between watching movies and writing some hindustani poetry, you'll find him propagating the need for positive mental health & kindness, as no act of kindness, as per him, is small or wasted. His love for capturing people and places goes beyond all labels.
Resource Mobilization and Partnership Lead, United Nations, Mr. Piyush Dhawan is working with the United Nations as a Resource Mobilization and Partnership Lead to assist the State Government of Haryana to achieve the Sustainable Development Goals. In 2018, Piyush was selected for the prestigious German Chancellor Fellowship by the Alexander von Humboldt Foundation in Germany where he worked on the topic of Future of Cities. He was also a visiting fellow at the Circular Economy Centre at the University of Cambridge. Piyush has represented India at many prominent youth forums and conferences in Austria, France, Germany, Mongolia, and Thailand. Piyush is a Delhiite and calls himself a 'Pollution Migrant' who was forced to move due to rising pollution levels in the Capital.
Vice President, Head Sales & Marketing (Motors and Generators) Prasanna Deshpande, is Vice President and Head (Sales and Marketing) of Motors & Generators Business Unit at ABB India. He is also the Digital and IOT lead for this business unit in India. He earlier worked as Regional Sales Manager for India ,Middle East and Africa. ABB is world leader in Power and Automation equipment and system solutions. Before joining ABB, he worked for L&T in their Electrical Business Group. He has 23 years' experience in the electrical industry, with background in servicing, application engineering, sales and marketing. His experience and interests include business strategy, Industrial IOT, product management, Customer segmentation, Project frame agreements, Sales Management, OEM and Channel partner development. He has also been part of global merger and acquisition team and successfully handled sales and marketing integration. Mr. Deshpande holds a Masters degree of Engineering in Power Systems and MBA (Technology Management).
International Sand Artist, Sudarsan Pattnaik is an Indian sand artist from Odisha. Mr Pattnaik has represented India in 60 international sand sculpture championships and festivals all around the world and won 27 championship prizes for the country. He was among the 15 top sand artists selected from across the world to participate in the 2019 Revere Beach International Sand Sculpting Festival in Boston, Massachusetts. Apart from these, he is creating social awareness in national and international arena on world peace, global warming, terrorism, HIV AIDS, to save endangered wildlife species through his sand art for which he is always covered in global media. His works on the promotion of Indian Tourism in Global Forum through his talent of art in different countries like Belgium, United States, Holland, London etc. is highly recommendable. He is also providing training to artists through open air Sudarsan Sand Art Institute Puri.
Syed Tamjeed Ahmad
Aerospace Lawyer, Mr. Ahmad is a graduate of the Advanced LL.M. in Air and Space Law from Leiden University. He worked as a Government Affairs Trainee with Boeing International Corporation as Boeing's European Regulatory Affairs Team before completing his thesis on aircraft repossession in India. On his joining Sarin & Co., Mr. Ahmad was instrumental in successfully representing an Irish lessor in the hotly contested repossession of 2x Airbus EC130 helicopters from a defaulting Indian lessee.
Vidushi Marda
Legal Researcher: Technology, Policy, and Human Rights.Vidushi Marda is a lawyer working at the intersection of emerging technologies, policy and society. She currently leads Article 19's global research and engagement on artificial intelligence (AI) and human rights, and is also a non-resident research analyst on AI and rights at Carnegie India. Marda has served as an invited expert at the World Commission on the Ethics of Scientific Knowledge and Technology, the UN Human Rights Council, the European Parliament, the Council of Europe, among others. Her research has been cited by the Supreme Court of India in its historic ruling on the Right to Privacy, and by the UN Special Rapporteur on Freedom of Expression.
Notably, TED is a nonprofit devoted to spreading ideas, usually in the form of short, powerful talks (18 minutes or less). TED began in 1984 as a conference where Technology, Entertainment and Design converged, and today covers almost all topics — from science to business to global issues — in more than 100 languages. Meanwhile, independently run TEDx events help share ideas in communities around the world.