Bard of Blood is an Indian fictional spy thriller web television, premiered on 27 September 2019 on Netflix is already trending & Winning Hearts in Internet with huge response.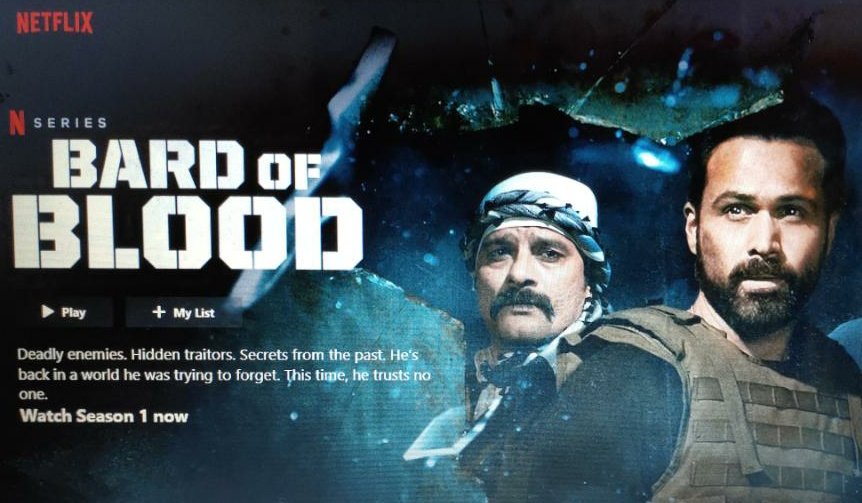 But do have any idea why it's trending in the social media blogging sites.
Because the series is based on the 2015 espionage novel of the same name by Bilal Siddiqi. Directed by Ribhu Dasgupta and produced by Red Chillies Entertainment.
It is a seven-episode series that revolves around the story of an ex-RAW agent.
Casts of the web series BOB are Emraan Hashmi as Kabir Anand / Adonis, Jaideep Ahlwaat as Tanveer Shehzad, Sobhita Dhulipala as Isha Khanna, Kirti Kulhari as Jannat, Vineet Kumar Singh as Veer Singh, Shamaun Ahmed as Qasim Baloch, Rajit Kapur as Sadiq Sheikh, Ajay Mahendru as Rehmat Khatib, Sahiba Bali, Amyra Dastur.
Writer of the series is Gaurav Verma, while Shah Rukh Khan and Gauri Khan are the Producers of the amazing heart winning web series.
In short, an excommunicado RAW agent Kabir Anand returns to a covert mission with analyst Isha and another sleeper agent Veer Singh to rescue four RAW agents captured in Balochistan.
The mission soon turns south and Kabir must face his demons from the past.
However, the web show features characters interacting in Hindi, Urdu and English.
In case if you have no idea about the web series, here we have shared the official trailer of 'Bard of Blood.'
Some reviews of Netflix viewers who waited to have glimpse of this series let's have a look!
1.
#BardOfBlood is left with an epic cliffhanger .. damn .. this is freaking brilliant @emraanhashmi is damn good in this one .. loved it totally#BardOfBloodWinningHearts

— Himanshu Raj🇮🇳 (@Raj88Himanshu) September 28, 2019
2.
Two episodes done of #BardOfBlood sir @emraanhashmi what an actor u r sir , brilliant & @s0humshah sir u did a great job ,loved ur performance too , @iamsrk sirji thanks for producing it @BilalS158 superb story man , thrilling & mindblowing #BardOfBloodWinningHearts pic.twitter.com/jJTJj87NNu

— shruvlegend (@shruvlegend) September 28, 2019
3.
No extra plots , action sequence done right Bard of Blood is the one to watch. @emraanhashmi has done a great job #BardOfBlood

— Navin Mirpuri (@navinmirpuri) September 28, 2019
4.
Writer and Producer of #BardOfBlood @BilalS158 & @iamsrk 😊😊❤️❤️ #BardOfBloodWinningHearts pic.twitter.com/jdQYGGCBO8

— Shivam Pandey (@MeShivamPandey) September 28, 2019
5.
Watched #BardOfBlood, it's amazing action spy thriller which will win ur hearts by each & everyone's performance. Once you start, I bet u will watch whole series in one go.
It's pure justice to Book by @BilalS158 & @emraanhashmi rocked it.👌🏻
⭐️⭐️⭐️⭐️⭐️#BardOfBloodWinningHearts pic.twitter.com/A7mGXJHMaI

— Sudhiर Kothaरi🇮🇳™ (@sudhirkothari03) September 28, 2019
6.
#BardOfBlood is now on @NetflixIndia . Here are the Bard boys – @iamsrk sir , @_GauravVerma , @ribhudasgupta . Minus two other boys who were busy while this snap was being taken – @mayankis and @emraanhashmi . Thank you all for making this possible!💥💫⭐️ pic.twitter.com/fPChiCJIxb

— Bilal Siddiqi (@BilalS158) September 27, 2019
7.
What an amazing and content driven series #Bardofblood shows the darker side of Balochistan.
With some Fantastic locations🙌🏻@ItsViineetKumar is to watch out for! and some young talent comming in as Balochistan's young leader @imAbhishekhkhan was exceptionally outstanding🤩🤩🤩🤩

— khanarbazmohd (@arbukhan) September 27, 2019
8.
Finally Watched All Episodes Of#BardOfBlood What a amazing story, direction, action, suspense, gripping… everything.Outstanding performance by @emraanhashmi @sobhitaD @ItsViineetKumar @IamKirtiKulhari Emran's acting is just flawless. Can't wait season 2😍

— Sabir🇮🇳 (@SabirSh21215391) September 28, 2019