Union Minister of State for Culture and Parliamentary Affairs , Shri Arjun Ram Meghwal inaugurated the exhibition "Azad Ki Shaurya Gatha" focused on the life of immortal martyr 'Chandrasekhar Azad' as part of "Azadi Ka Amrit Mahotsav" at Indira Gandhi National Center for the Arts (IGNCA), New Delhi  yesterday. During this, Books and documentaries were also released on the second day of the three-day 'Kalakosh Pratishtha Diwas' celebrations being celebrated by IGNCA. The program was presided over by Shri Ram Bahadur Rai, Chairman, IGNCA Trust. On this occasion Vice Chancellor of Sampurnanand Sanskrit University, Varanasi Prof. Hare Ram Tripathi; Member Secretary of IGNCA Dr. Sachidanand Joshi; President of Department of Kalakosh Dr. Sushma Jatoo and other guests were present.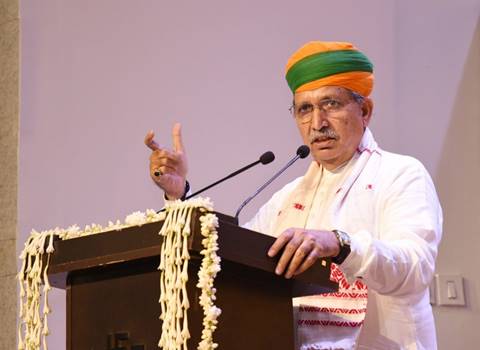 The Minister of State for Culture said on the occasion  "It is through the festival of "Azadi Ka Amrit Mahotsav" that  the young generation of the country will know how many people were martyred during the freedom struggle. A large number of persons from weaker sections also lost their lives in the freedom struggle which was never written in history . It was the Prime Minister who has given the name 'Azadi Ka Amrit Mahotsav' to celebrate 75 years of our country's freedom. The  Prime Minister has asked all the Ministries/Departments to make their own programs on the occasion of 75th year of Independence across the country."
In his Speech, Shri Ram Bahadur Rai said  that although India became Independent in 1947 but a significant thrust to freedom struggle was already given in 1857. Therefore, both these years and the intervening period is very important  for  'Amrit Mahotsav'of Independence'.
On this occasion, Dr. Sachidanand Joshi said in his welcome address that a series of programs are being organised by  Ministry of Culture for celebrating '"Azadi Ka Amrit Mahotsav "', and it is as a part of this series that  'Azad ki Shauryagatha' program has been organized.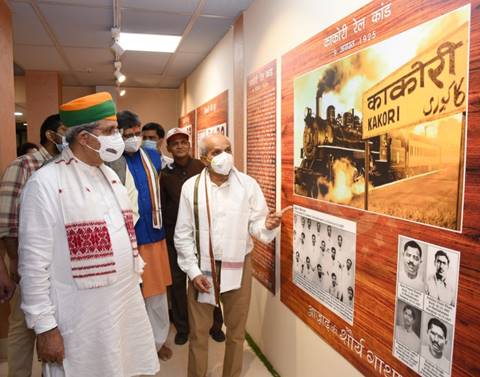 Dr Joshi said that it is a coincidence that today is the day of Guru Purnima and on this day the annual festival of Kalakosh Department takes place. "Efforts are being made to bring the necessary and authentic texts prepared under 'Kala Tatvakosh', 'Kala Moolshastra' and 'Kala Samalochana' in a short and easy form which is available in simple language for the convenience of young scholars. For this we are going to start a series of new projects named "Shastra Amrutam" from today, under which we will present abridged and simplified versions of our literally books and  texts. In the beginning we are taking up the task of ten texts and will present 12 abridged versions within the next one year. The short, simple form of the texts will prove to be very useful for young researchers and scholars", Dr Joshi added.